Alexander Borodin: Chemist Poet-Composer
Alexander Borodin was a Russian composer born 1833 in St. Petersburg to a Georgian prince and serf mother. Alexander Borodin was formally educated as a chemist at St. Petersburg Medical-Surgical Academy. Borodin considered chemistry to be is primary job in life, but Borodin had from his childhood dabbled in the musical arts. Borodin was taught piano as a child and later learned to play the cello so that Borodin could peruse his dreams of playing chamber music. During a brief service in the army, Borodin befriends another, soon to be, composer Modest Mussorgsky. Later in Borodin's Musical career he is inducted into a small informal group of Russian composers known as the Mighty handful, who's goal was to furnish the Russian cultural identity with uniquely Russian compositions. Borodin may not be my personal favorite composer, but I find his life and work to be honorable and worthy of discussion. Borodin to me represents a type of idealized man, someone who is diligent, applies all his skills and talents in both his career and his art. In a respect however, it is unfortunate to fans of Borodin that his catalogue of works is short, as Borodin was occupied with his career in chemistry.   Borodin's poetic style of composing is what I find most attractive about his works. 
The first piece that I would like to talk about is Borodin's In the Steppes of Central Asia. I cannot claim to have anything representing formal musical education, so I will not be able to talk about the technical skills of Borodin. The slow and flowing open of the piece creates this vast space, open and free. The stings being plucked perhaps allude to something mischievous are a bit dark in the scene, though not enough to indicate that something negative is supposed to happen. The Russian caravan marches into the wide space. Borodin then introduces what I believe is supposed to be an English horn section, playing a European oriental theme, Borodin's introduction of the native Steppe people. The Strings and the Horns dance a tender and warm crescendo, until about ¾ of the piece the instrumentation begin to dissipate, the curtains close on the scene. I can't but help but think that Concorde was sown between the two people, and these two different groups part from each other, excited by the warm mutual experience of meeting other souls on the calm, cool, vast steppe. The vivid imagery of the work was always part of the commission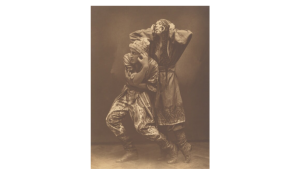 Alexander II placed with Borodin, In the central steppe was supposed to be performed initially as what amounts to a still play–like performance. The limitations of the performance art would have to rely on the costume design and music primarily, because none of the actors could move or speak. Borodin's lyricism is transportive, when I hear the Borodin, I cannot help but to begin to exist in a pleasant place, Borodin's music is remarkable.  
For the next piece, I would like to bring to attention Borodin's String quartet No.2, 3rd movement (Nocturne). Again, an excellent example of lyricism by the poetic Borodin. The larger horn equipped orchestration of In the Steppes of Central Asia fits with the scenery's vastness, again too the size of the performance gives the piece a scene of space. Borodin's Nocturne Quartet gives the piece an intimate quality to the night. The experience of this Nocturne is like a quiet, summer night alone. Borodin's base keeps one grounded to the earth, perhaps the observer is sitting at a desk before a window or walking through a dimly lit path through a park. Alone the observer gazes upon the immaculate masterpiece that is a full moon. Seeing every star splayed out upon the night's canvas, the observer is filled with a weak but determined hope. Later in the piece, Borodin offers a canon between a violin and a cello possibly alluding to the observer recalling pleasant memories. Borodin's excellent use of instrumentation is divine.  
Bibliography:
Elliott, Suzanne. "Alexander Borodin: String Quartet No. 2 in D." Classic FM, Global Media & Entertainment Ltd, 20 Apr. 2012, www.classicfm.com/composers/borodin/music/string-quartet-no-2-d/. 
Elliott, Suzanne. "Alexander Borodin: In the Steppes of Central Asia." Classic FM, Global Media & Entertainment Ltd, 20 Apr. 2012, www.classicfm.com/composers/borodin/music/steppes-central-asia/. 
"Borodin, Alexander Porfir′Yevich." San Francisco Classical Voice, www.sfcv.org/learn/composer-gallery/borodin-alexander-porfir%E2%80%B2yevich. 
Borodin, Alexander. "In the Stepps of Central Asia" DuPage Symphony Orchestra, Barbra Shubert, Dupage Symphony Orchestra, Performed: 2/05/2005 MP3 https://imslp.org/wiki/In_the_Steppes_of_Central_Asia_(Borodin%2C_Aleksandr) 
 Borodin, Alexander String Quartet No.2 MV.III Noctune, Czech National Symphony Orchestra, Palo Alto: Musopen, 2012. 
https://imslp.org/wiki/String_Quartet_No.2_(Borodin,_Aleksandr) 
Photograph of Bronislava Nijinska and V. Karnetzky in Polovtsian Dances from Prince Igor, n.d. , . Photograph. https://www.loc.gov/item/ihas.200156308/. 
 Photograph of Alexander Borodin, 1865, Photograph https://commons.wikimedia.org/wiki/File:Borodin.jpg 
 Gordin, Michael D. "The Heidelberg Circle: German Inflections on the Professionalization of Russian Chemistry in the 1860s." Osiris, Second Series, 23 (2008): 23-49. Accessed April 24, 2020. www.jstor.org/stable/40207002. 
 The Mighty Handful, N.D, Illutration, https://laymanclassics.files.wordpress.com/2011/11/the_five.jpg